iPhone Repair lakeland,FL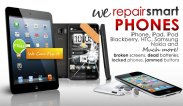 We have extensive experience of everything Apple & Samsung related as we work with iPhones, iPad's and Samsung every day. We understand that damage to any of these devices can be frustrating as you worry about the cost of repairs. This is why we've developed our expert services to bring you the most affordable iPad, Samsung and iPhone repair in Lakeland, FL.
Our skills in this area allow us to repair your devices quickly and easily. Our time in the industry has allowed us to build loyal connections with product suppliers so if you need a new part we can ensure you receive it at speed. Our low prices and expedited approach do not compromise the quality of our repairs as we ensure we give you back a device that operates like new.
We understand that accidents happen and that iPhones iPads  And Samsung are delicate pieces of technology. We've encountered every single problem and delivered solutions that save our customers from having to buy a completely new device. Out costumers rely on our iPhone repair service to get their Apple and Samsung devices back in working order.
iPhone Screen Replacements, Unlocking & Water Damage Repair in Lakeland FL
Our iPhone Repair service includes:
Samsung, iPad and iPhone Screen Repairs or Replacements
Water Damage Repair
Unlocking of Phones
Removal of Software/ Addition of Software
Settings Problems and Connectivity Problems
Battery Issues
Broken Touchpad
Scratched Screens
Crashing or Slow Service
No matter what problem you've encountered with your Apple device we have the experience to make it disappear. We also ensure you endure no inconvenience to your daily life, this is why we offer a pickup and drop off service to fit your routine.
Chat with us live now or pop in and ask us any question, you'll be surprised how easy and affordable it is to have your Apple devices fixed with Lakeland Computer Repair.
Looking for a rapid, same day iPad, iPhone or iPod repair service in Lakeland, Florida to customized your needs? You've come to the right place!
iPad Repair
Here at Reliant Computer Services, we work relentlessly to supply you with the very best iPad repair services with the most affordable prices on the market. We fix all iPad models, and our expert services include glass repairs and screen replacement. Our friendly staff is always ready to answer your questions and provide you the best solutions to your issues. Should you wish to get in touch with our committed customer service representative, do not hesitate to call us now. We are delighted to help and ease all the undesirable hassle.
Reliant "Computer Services offers the best iPhone Samsung repair service in Lakeland Florida. We are committed to providing the most expedient and cost-conscious service for all Apple portable devices. Give us a call at our Lakeland office at (863)-588-1557.